Oak Island Offshore Fishing Information
Offshore up to 5 people
Oak Island Fishing will take you on an offshore adventure you will never forget. We have so many options with many great offshore fishing spots where we will troll for Wahoo, King Mackerel, and Mahi-Mahi. We will also stop and do some wreck fishing for bottom feeders including big Amberjack, African Pompano, Cobia, as well as Red Snapper and Grouper. These are the fish we'll be after, but you can expect many species of shark to hook in and put up a fight as well.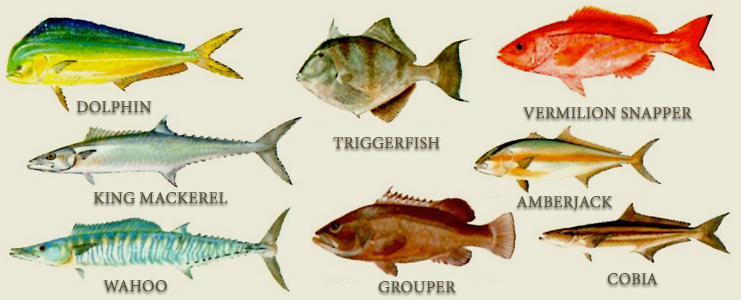 7 hours - 12 hours
We can customize your trip and don't hesitate to call about hourly rates as well!
We bring the opportunity to experience Oak Island offshore fishing in a manner that will allow you to explore the deep water for an array of popular fish. Join fishermen whose experience surpasses most in the area and who can train you on the how to's in catching some of the most desired species found near the southeastern coast. Whether you're a beginner or a seasoned angler, you'll be pleased in every angle of your experience!
Taking you to the parts of the water where the fish swim in vast numbers, this type of travel comes with much to see and plenty to do! Cast your line and reel in a possible catch of Mahi-Mahi, Wahoo and King Mackerel. You may also find yourself wreck fishing for Big Amber jack, Grouper, African Pompano, Cobia, and Snapper. We can transport up to five people during each trip for seven to twelve hours. If you're bringing young ones and want them to get the beginner's guide in offshore fishing, we can customize your trip to suit the occasion. On windy days, we take a boat ride out to Carolina Beach so that you can enjoy more calming waters for a better fishing experience. Our boats are reliable and sound so that your time on the water is safe and secure.
Oak Island offshore fishing presents a great opportunity to spend time with friends and family while testing the might of your reel. A relaxing affair just from the views alone, see the momentum change in the moment that you get a pull at your line! Each catch feels like the first time we set sail on the deep and we share the same excitement as you do when you make a catch! Get on the good foot and call 910.470.1995 for additional information as rates and destinations may vary throughout the year. This is a great opportunity to create a new memory while learning about the coastal region of North Carolina while taking a fantastic voyage into the depths of Atlantic Ocean!
Check out the offshore gallery below and get a sense of what makes offshore fishing such a memorable experience.
Offshore Gallery